Events and Awards
Michael Agar's Life and Work Honored at the Society for Applied
Anthropology 78th Annual Meeting
Philadelphia, PA, April 3-7, 2018
Michael H. Agar: Remembering a Master Craftsman
Organizers: Heather Schacht Reisinger, James Peterson
Mike was the ultimate craftsman with words, yet it is difficult to find the words to describe his career. He was a linguistic anthropologist, a cultural anthropologist, almost an South Asianist, a drug expert, a medical anthropologist, an applied anthropologist, a practicing anthropologist, a public anthropologist, a professional anthropologist, a professional stranger, a theoretical anthropologist, an academic anthropologist, an independent consultant, a cross cultural consultant, a computer modeler, an agent-based modeler, a complexity theorist, an environmentalist, a water expert, a teacher, a storyteller, an advocate, a mentor, and a friend. During this session, people who have known Mike across his career reflect on his impact—and how we all can continue his legacy.
In the left column are abstracts from the panels, with links to presentations, where available.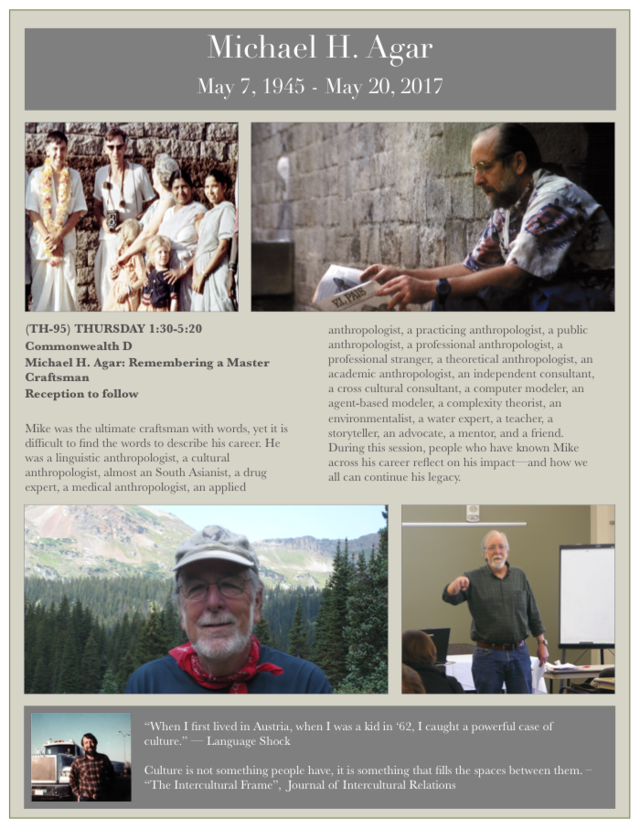 QUALITATIVE HEALTH RESEARCH
ESTABLISHES
The Michael H. Agar "Lively Science" Award
This annual award will be given by a subcommittee of the editorial board of the journal Qualitative Health Research to the authors of the most innovative applied research article appearing each year in the journal beginning with the 2017 volume year. Articles will be reviewed each year by the awards committee and the winner selected by this committee. No application for award is necessary.
Michael H. Agar was a well-known applied anthropologist who served many years on the editorial board of Qualitative Health Research. His work ranged widely across anthropology, linguistics, qualitative methods, social theory, cognitive science, and in many applied social and health research domains. It was characterized by innovation, creativity, risk-taking, and offering real solutions to real world problems through the power of social research. His final book, The Lively Science, passionately argued for the value of research for addressing societal problems. Michael passed on from ALS on May 20, 2017. The award honors the spirit of Mike's work and urges that spirit on other researchers.
The Award:
-Award plaque sent to the lead author
-Perpetual open access status for the article
-Award banner attached to the article on the journal website
-Advertising the award winner in the journal's and publisher's advertising
Criteria:
-In Michael's own words: "He sought work that passed the 'trinity test' – intellectually interesting, with moral value, which paid the rent."
-Published in an issue of Qualitative Health Research in each calendar year of the award
-Article addresses a key health policy, health services, or applied health research issue
-Article provides innovative use of social theory and qualitative methods toward understanding this problem
-Article provides creative, concrete solutions to the problem addressed directed toward the public good
-Article written in evocative, engaging style