Events and Awards and Tributes
Mike Agar, el Artesano
A beautiful tribute to Mike from SfAA panelist, Diego Martín Díaz Córdova of Antropocaos.
Durante el congreso de la Sociedad para la Antropología Aplicada (SfAA, por sus siglas en inglés) realizado en la ciudad de Filadelfia en el mes de abril de 2018, hubo una mesa dedicada a la memoria de Mike Agar. Si bien era una mesa académica, como las de cualquier congreso, era insoslayable la emoción que se percibía, tanto en la sala como en los pasillos circundantes. Una red de cultura, ethos y eidos (al decir de Bateson), que dinámica iba y venía por los pasillos del hotel donde se desarrollaba el congreso. Al fin y al cabo, para Mike, la cultura era aquello que se encuentra entre dos individuos, aquello que no se porta, pero que permite se establezcan relaciones entre las personas: "Culture is not something people have, it is something that fills the space between them". Read more...
Michael Agar's Life and Work Honored at the Society for Applied
Anthropology 78th Annual Meeting
Philadelphia, PA, April 3-7, 2018
Michael H. Agar: Remembering a Master Craftsman
Organizers: Heather Schacht Reisinger, James Peterson
Mike was the ultimate craftsman with words, yet it is difficult to find the words to describe his career. He was a linguistic anthropologist, a cultural anthropologist, almost an South Asianist, a drug expert, a medical anthropologist, an applied anthropologist, a practicing anthropologist, a public anthropologist, a professional anthropologist, a professional stranger, a theoretical anthropologist, an academic anthropologist, an independent consultant, a cross cultural consultant, a computer modeler, an agent-based modeler, a complexity theorist, an environmentalist, a water expert, a teacher, a storyteller, an advocate, a mentor, and a friend. During this session, people who have known Mike across his career reflect on his impact—and how we all can continue his legacy.
In the left column are abstracts from the panels, with links to presentations, where available.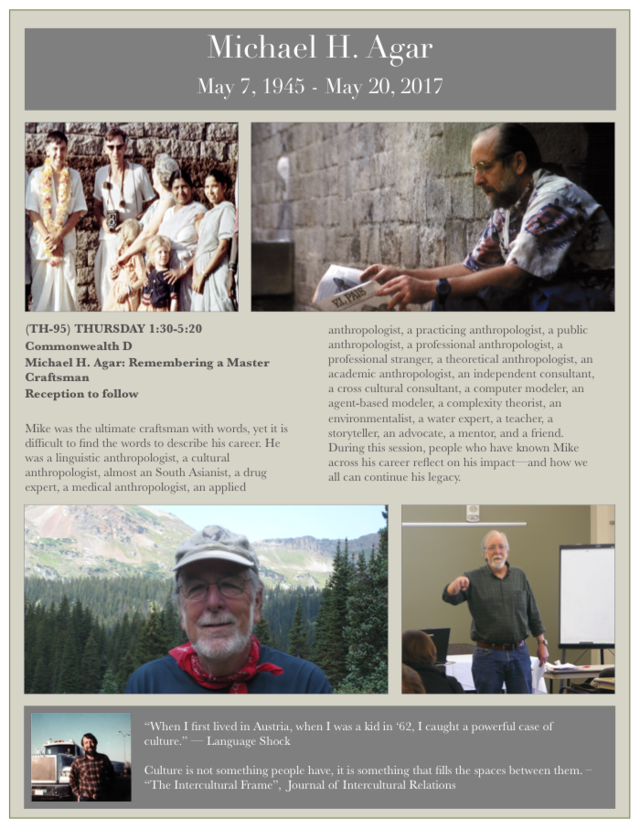 Michael H. Agar Lively Science Award for 2018 Announced
The first Michael H. Agar Lively Science Award has been presented to Sunny Sinha, assistant professor in the School of Social Work, Marywood University, Scranton, Pennsylvania, for her article Ethical and Safety Issues in Doing Sex Work Research: Reflections from a Field-Based Ethnographic Study in Kolkata, India, published in Qualitataive Health Research (QHR), 27(6), 2017.
Sinha's article provides "an in-depth, self-reflexive account of the ethical and safety issues faced while conducting a 7-month, field-based ethnographic research project with 'flying' or non-brothel-based female sex workers in Kilkata India." Defying the stigmatization of her research subjects and the risks to her own career for studying a population considered "dirty" in her middle-class Indian community, Sinha expertly and sympathetically evokes the life world of her subjects. In the process of her study, she engages with the tangled web of institutional restrictions, the dilemmas of obtaining informed consent, the complexities of building rapport, the need for confidentiality, the imperative of contributing to these women's lives, and personal safety concerns for the researcher in an unmonitored street setting. Her deft prose and clear insights create a deep understanding of these women's lives and point to how researchers can ethically provide benefit to those lives.
Beginning in 2018, the Agar Lively Science award is given annually by the journal Qualitative Health Research to the authors of the most innovative applied research article appearing each year in the journal. An awards committee consisting of QHR editorial board members Jody Glittenberg, Guendalina Graffigna, David Morgan, and Marie Poggenpoel selected this article from more than 150 articles published in QHR in 2017 as the one most representative of Agar's work.
Congratulations to Dr. Sinha for her brilliant article and many thanks to the committee for their diligent work. Mike would have been proud.
---Mitchell Allen, University of California, Berkeley, USA
QHR Board Member and Agar Award Committee Chair
Announcement of the
Michael H. Agar "Lively Science" Award
This annual award will be given by a subcommittee of the editorial board of the journal Qualitative Health Research to the authors of the most innovative applied research article appearing each year in the journal beginning with the 2017 volume year. Articles will be reviewed each year by the awards committee and the winner selected by this committee. No application for award is necessary.
Michael H. Agar was a well-known applied anthropologist who served many years on the editorial board of Qualitative Health Research. His work ranged widely across anthropology, linguistics, qualitative methods, social theory, cognitive science, and in many applied social and health research domains. It was characterized by innovation, creativity, risk-taking, and offering real solutions to real world problems through the power of social research. His final book, The Lively Science, passionately argued for the value of research for addressing societal problems. Michael passed on from ALS on May 20, 2017. The award honors the spirit of Mike's work and urges that spirit on other researchers.
The Award:
-Award plaque sent to the lead author
-Perpetual open access status for the article
-Award banner attached to the article on the journal website
-Advertising the award winner in the journal's and publisher's advertising
Criteria:
-In Michael's own words: "He sought work that passed the 'trinity test' – intellectually interesting, with moral value, which paid the rent."
-Published in an issue of Qualitative Health Research in each calendar year of the award
-Article addresses a key health policy, health services, or applied health research issue
-Article provides innovative use of social theory and qualitative methods toward understanding this problem
-Article provides creative, concrete solutions to the problem addressed directed toward the public good
-Article written in evocative, engaging style